Dedication to Production Technology
As a pioneer in Western confectionaries in Japan, Morinaga has consistently innovated its production technology: Morinaga was the Japanese manufacturer to begin bean-to-bar continuous production in 1918, and the first to introduce biscuit band ovens in 1954. Morinaga has continually emphasized safety and peace of mind as the first company in Japan's confectionary industry to establish uniforms for workers in order to improve hygiene management in the manufacturing workplace in 1904.
1918
Advertisement for the launch of Morinaga Milk Chocolate

1954
Introduction of biscuit band ovens
Today, Morinaga still aims to consistently produce high-quality products efficiently in accordance with high standards and provide these products to customers, and our Production Technology Division at corporate headquarters and various production bases are taking on the challenge of developing new technology and improving existing technology on a daily basis.
Takasaki Morinaga Co., Ltd.

Control room
Manufacturing Bases Spreading throughout the World
Morinaga's manufacturing bases comprise four Morinaga factories and four Group companies within Japan, and three Group companies overseas in Taiwan, China, and the United States.
Our domestic production factories have acquired certifications of their food safety management systems for meeting FSSC 22000 or JFS-B standards.
Overseas, we have acquired FSSC 22000 or SQF Codes Edition 9* certifications. In this way, we are improving the quality assurance levels and strengthening the product safety management systems at all manufacturing bases.
FSSC 22000 certification : Tsurumi Factory, Chukyo Factory, Oyama Factory, Mishima Factory, Takasaki Morinaga Co., Ltd., Morinaga Angel Dessert Co., Ltd., Morinaga Dessert Co., Ltd., Taiwan Morinaga Co., Ltd., Morinaga (Zhejiang) Co., Ltd.
JFS-B certification : Aunt Stella Inc.
SQF Codes Edition 9 certification :
Morinaga America Foods, Inc.
※SQF = Safe Quality Food. An international certification standard that combines a food safety management system and a quality management system based on HACCP (Hazard Analysis and Critical Control Points) to ensure food safety and quality.
Morinaga Food (Zhejiang) Co., Ltd. (China)

Morinaga America, Inc. (USA)
Structural Reforms of Manufacturing Functions
The Morinaga Group has created products with the utmost priority given to superior quality, safety, and security. Aimed at achieving the 2030 Vision, we will further evolve our safe, secure, and highly efficient production system built up as a food manufacturer into one for the next generation. Smart factories represent one of our initiatives toward this end. We will combine our long-standing technologies with digital data from manufacturing facilities to increase the stability of operations and improve production efficiency. As one example, we will speed up collaboration between manufacturing and indirect departments by introducing IoT and AI technologies to our manufacturing facilities to visualize operating status in real time. Also, we will reduce production waste and loss by preventing prolonged shutdowns from the early detection of facility problems. In terms of the transition to smart factories, we have started from new facilities at the Takasaki Factory No. 3 of Takasaki Morinaga Co., Ltd. and will continue to do so at our other factories inside and outside of Japan.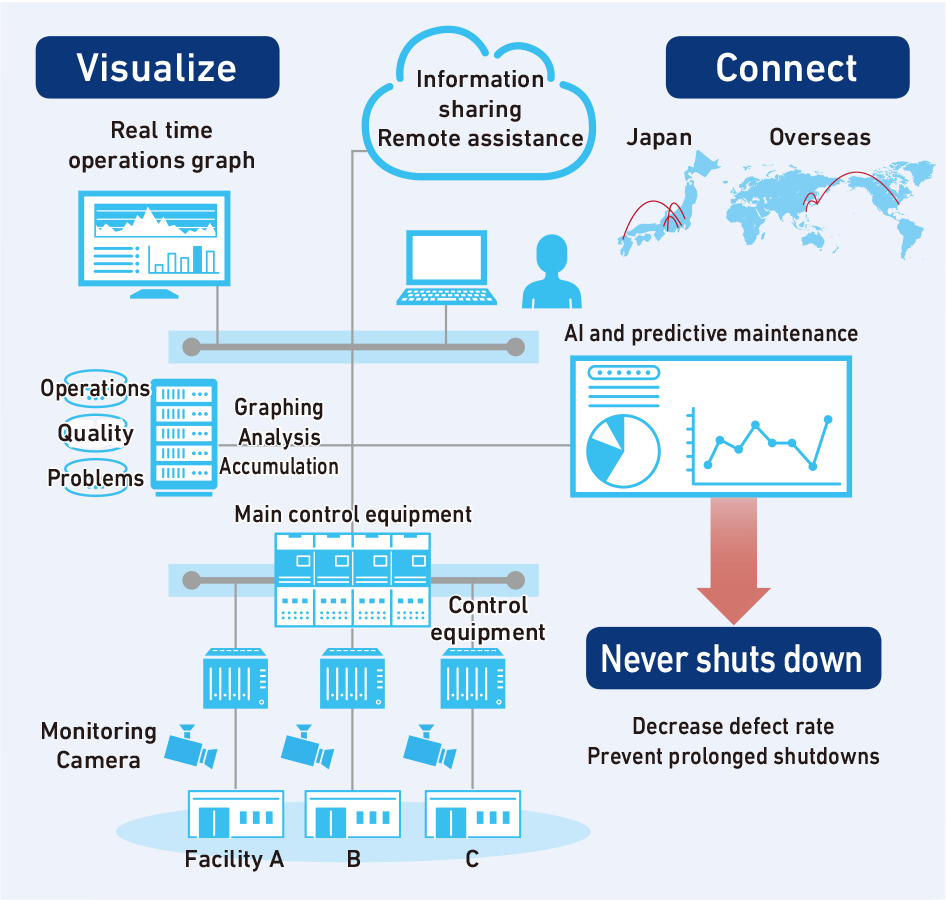 Overview of Smart Factories
Factory No. 3 of Takasaki Morinaga Co., Ltd.
The Morinaga Group is reviewing its production system and introducing highly efficient manufacturing lines primarily at its mainstay factories. Takasaki Factory No. 3 is our latest factory featuring highly efficient facilities in terms of production and energy consumption. The factory is also proceeding with the transition to a smart factory. We launched production of chocolate in the fiscal year ended March 31, 2021 and frozen desserts in the fiscal year ending March 31, 2022.
Takasaki Factory No. 3

Control room of the Factory No. 3