There are two fermented ingredients used in Morinaga Amazake
Amazake - a traditional Japanese fermented beverage that is beneficial for your body.
We strongly recommend Amazake to those who'd like to maintain a healthy constitution.
Did you know there are two types of amazake - amazake made using kome koji, and amazake made with sake lees?
These ingredients are the reason why amazake is also known as "the drinkable IV drip" or "the drinkable nutrition solution".
Let's look at both ingredients: kome koji and sake lees.
Kome Koji Production Process
1

Rice

2

Steam

3

Steamed Rice

4

Add koji mold

5

Kome koji produced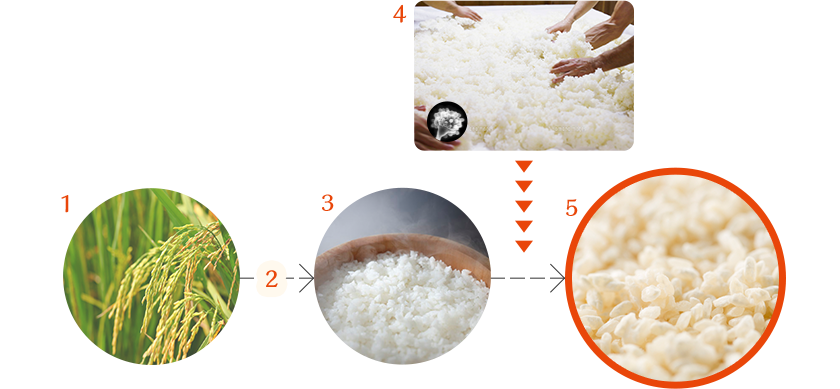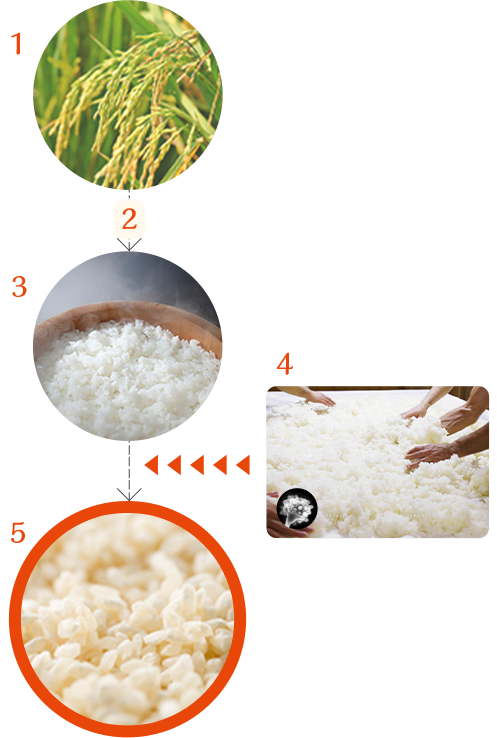 Secret of Kome koji
Kome koji is made from steamed rice with koji mold (rice culture) added to it. Most traditional Japanese food or ingredients, including amazake sake, mirin (cooking sake) and miso paste - to name a few - are made using fermented kome koji.
Kome Koji Nutritional Composition
Vitamin B complex, Folic acid, Pantothenic acid, Biotin, Niacin
Kome Koji "Happy" Facts
- The fermentation process of kome koji creates vitamins
- The fermentation process also transforms the starch in the rice into glucose or oligosaccharides, and thus a natural sweetness is created - … And much more!
Sake Lees Production Process
1

Rice

2

Steam

3

Steamed Rice

4

Add koji mold

5

Fermentation by koji mold

6

Kome koji is produced

7

Add yeast

8

Unrefined sake

9

Sake Lees is produced

※

Double fermentation


Secret of Sake Lees
Sake lees are made by adding yeast into fermented kome koji. The mold and yeast together create a "double fermentation" effect which condenses a variety of nutritional components. It features a mellow aroma and a rich taste.
Sake Lees Major Nutritional Compositions
Protein, carbohydrates, dietary fiber, vitamins, organic acid, mineral, amino acid, B-glucan, Folic acid
Sake Lees "Happy" Facts
- Sake lees are one of the by-products created during the process of producing Japanese sake. The "double fermentation" power of mold and yeast produces a high nutritional value.
- In addition to proteins, dietary fibers, vitamins and minerals, etc., peptides and amino acids are produced by the fermentation process. β-glucan and folic acid from bacilli and yeast are also contained in sake lees.