Medium-to-long-term Business Strategy
By remaining in tune with changes in the times and social trends, the Morinaga Group formulates and implements medium-to-long-term strategies with the aim of strengthening our business activities and realizing corporate growth. Our most recent plan, the 2015 Medium-Term Business Plan, establishes the goal of "strengthening our management foundation and generating the buds of business" as the basic policies; therefore, we are working to further enhance corporate value by concentrating on the three pillars of the existing business segments centered on confectionaries and frozen desserts as the growth segments and the overseas business and health divisions as the new segments where we seek out new business activities that will connect us to the next generation.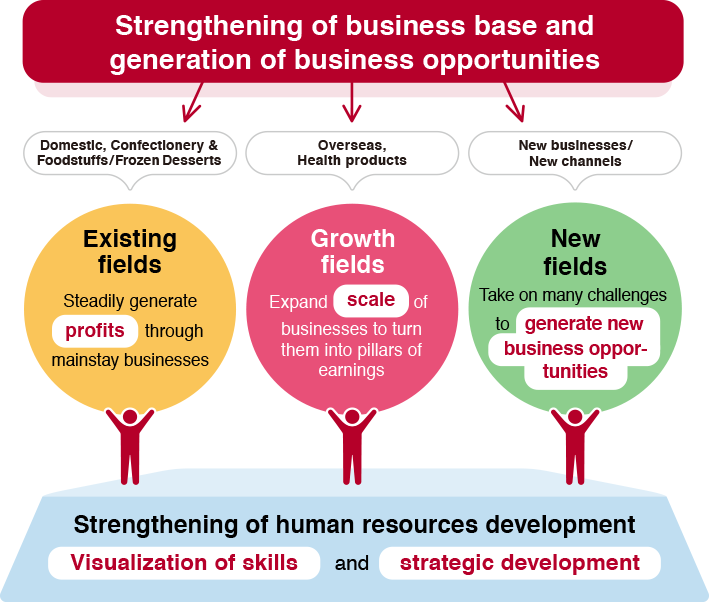 Initiatives in Each Business Segment

Domestic: Confectionary &
Foodstuffs/Frozen Desserts

We will create mechanisms for reliably generating profits as a pillar of the business segment while constructing a strong profit structure.

Overseas Business/Health

We will endeavor to achieve further growth, provide new value, and expand our scale of operations in expanding markets as the business segment to become the next pillar of the Morinaga Group.

New Business Activities/Markets

Regardless of the framework of existing business, we will endeavor to enter new business fields and open up and acquire new markets through even broader and more flexible ideas.
Achieving stable growth of profitability
On top of a strong profit structure in existing fields, we will build growth in the overseas business and health fields by working to further strengthen our business foundation.