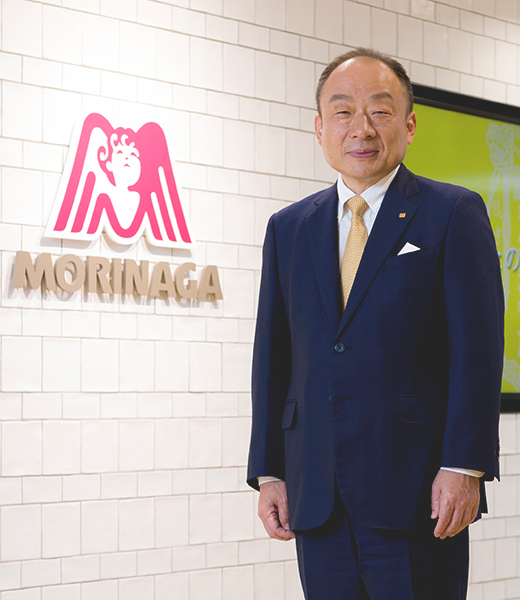 While taking careful care of the MORINAGA brand, we intend to fulfill everyone's expectations through sustained growth that is true to the MORINAGA Way.
In FY2017, the final fiscal year of the 2015 Medium-Term Business Plan, we were able to achieve both our goals for both sales and operating income, while also achieving a ratio of operating income to net sales—an important management indicator—within close range of our goal of 10%.

Moving into the future, the awareness of customers is undoubtedly changing at a gradual pace, even in the food industry, with such phenomena in the domestic market as the declining birthrate and accelerated aging of society, polarization of thriftiness and consumption, and expansion of the sharing economy. In the distribution environment, too, dramatic changes are occurring due to factors such as the expansion of EC business, and since our products' raw material are centered on agricultural produce, going forward we will believe it will be impossible for us to avoid soaring raw material prices in addition to increasing labor and distribution costs.
Amidst these environmental changes, we have formulated a new three-year medium-term business plan commencing in FY 2018. The 2018 Medium-Term Business Plan establishes "solidify business foundation, accelerate growth strategy" as our basic policies, with the Group aiming to strengthen the "existing domains" of "Domestic Confectionery & Foodstuffs/Frozen Desserts" while expanding the "Wellness" and "Global" domains, leading to further growth.
In existing domains ("Domestic Confectionery & Foodstuffs/Frozen Desserts"), by concentrating management resources in main brands, we believe it is possible for us to generate stable sales and profits, thereby achieving growth. In order to further strengthen our main brands, we will undertake initiatives that emphasize generating efficient profits in our core businesses, including formulating new proposals tailored to changing channels and sales environments; cost controls and technological innovations incorporating the trinity of marketing, production, and R&D; and improvements in efficiency achieved through reconstruction of our production systems.
In the "Wellness" domain, we will pour even greater effort into developing products meeting ever-increasing health needs for people in not only the seniors age group but all age groups. "Health" is an extremely important field in terms of our company's future growth. Currently, MORINAGA sales for "Wellness domain" entry products are growing for existing confectionaries and foods with added "Wellness" value, such ashi-cacao chocolate, and have increased tremendously for in-Jelly products, with "Wellness" product sales expanding to comprise approx. 43% of overall sales.* We have named this domain "Wellness", and we intend to answer customers' needs by further enhancing products in this domains.
*Wellness products / (Domestic) Sales of confectionery/foodstuffs and health products
In the "Global" domain, we will continue our expansion, centered on our HI-CHEW brand. While differences certainly do exist between Japan and other countries in terms of the raw material situation, distribution mechanisms, and lifestyles, overseas field surveys show that MORINAGA's product quality is extremely highly evaluated. Centered on the United States, China, and Asia, MORINAGA will pour effort into our HI-CHEW business with the aim of expanding operations, diffusing MORINAGA brands, and penetrating global markets.
At MORINAGA, we feel that our business is a happy business. Being able to provide people with "deliciousness" and "Welness" through food is a tremendous joy, and so we wish to fulfill the expectations of our customers and of society by maintaining rock-solid, sustained growth that is true to the MORINAGA Way while taking careful care of the MORIGANA brand. Ensuring that we do not betray the trust of our stakeholders while also placing emphasis on compliance and governance initiatives, we will foster the growth of each of our employees and thereby promoting the creation of mechanisms and management that leads to growth for the company overall. We greatly appreciate the continued support of our stakeholders for these endeavors.
Toru Arai
President and Representative Director
June 2018